Jakarta (ANTARA) – Produsen kendaraan sport asal Prancis, Bugatti baru saja mendapat lampu hijau untuk meluncurkan Bugatti Baby II di Amerika Serikat yang hanya di produksi sebanyak 500 unit.
Dikutip dari laman resmi Bugatti, Selasa, Bugatti memproduksi Baby II bekerja sama dengan The Little Car Company dan akan diluncurkan dalam tiga versi.
Versi pertama hadir dengan banderol 36.600 dolar AS, French Racing Blue dengan interior yang dibalut dengan kulit Hitam. Vitesse akan dijual mulai dari 53.000 dolar AS dan Pur Sang yang ditawarkan dengan banderol 71.400 dolar AS.
Baca juga: Duo Bugatti Chiron Noire diproduksi hanya 20 Unit
Baca juga: Bugatti Baby II, mobil khusus anak seharga hampir setengah miliar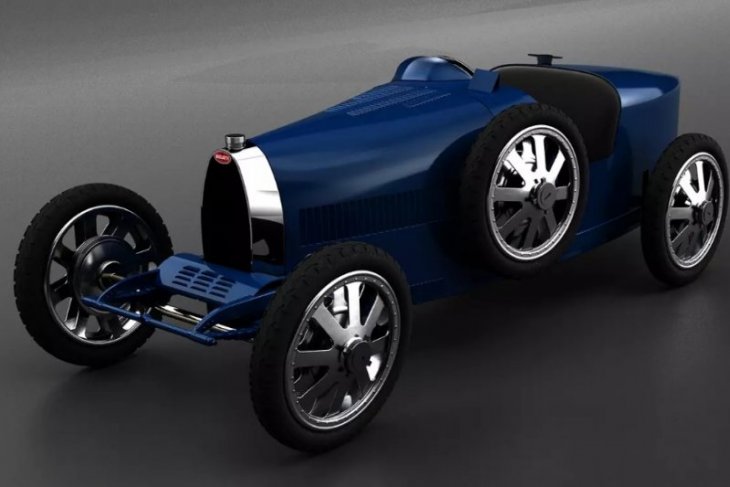 Dua dari ketiga versi ini hadir dengan warna dan corak vintage khas yang memberi penghormatan pada pembalap Bugatti. Kendaraan itu juga akan tersedia dalam palet warna Chiron yang memungkinkan pemilik untuk mencocokkannya dengan hypercar mereka. Selain itu, Pur Sang menawarkan bodywork dengan bahan aluminium.
Baby II didasarkan pada platform penggerak roda belakang elektrik, dengan pilihan baterai jarak pendek dan jarak jauh. Dalam spesifikasi tertinggi, dapat dikendarai hingga 31 mil (50 km), dengan kecepatan maksimum mencapai 42 mph (68 km / jam).
Kendaraan elektrik ini nantinya akan dipamerkan di Bugatti's Newport Beach dan showroom Beverly Hills hingga Desember.
Jika konsumen yang akan membeli kendaraan ini akan otomatis terdaftar sebagai anggota Bugatti Owner's Club dan The Little Car Club, memungkinkan pemilik mendapat kesempatan untuk mengendarai EV ini di beberapa sirkuit paling terkenal di seluruh dunia.
Baca juga: Volkswagen akan jual merek Bugatti ke Mate Rimac?
Baca juga: Bugatti tunda pengembangan model kedua
Baca juga: Bugatti Chiron Pur Sport hadir di Frankfurt dan Munich
Pewarta: KR-CHA
Editor: Alviansyah Pasaribu
Copyright © ANTARA 2020
Credit: Source link