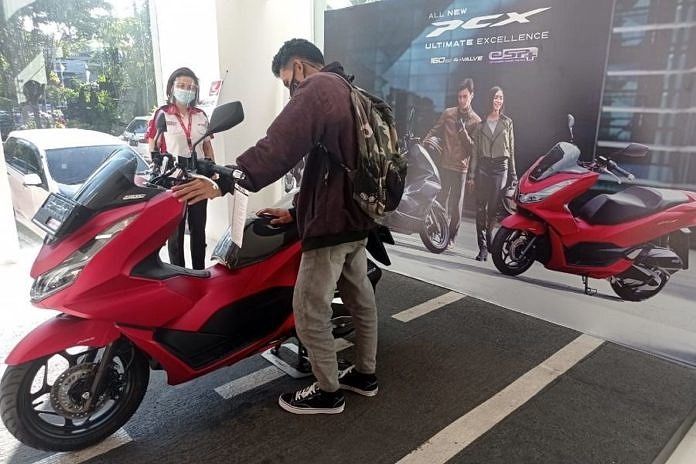 DENPASAR, BALIPOST.com – Jelang tahun ajaran baru, meskipun masih dalam kondisi belajar jarak jauh atau yang sering disebut belajar daring, Astra Motor Bali bersama seluruh jaringan resmi sepeda motor Honda memberikan apresiasi kepada konsumen setia. Yaitu promo istimewa pembelian sepeda motor Honda.
Promo menarik yang ditawarkan adalah 3 tipe favorit motor Honda. yakni Honda PCX hanya dengan DP Rp 1,2 juta, angsuran per hari 35 ribu, untuk Honda Scoopy DP Rp 900 ribu dengan angsuran 24 ribu per hari, dan type Honda Beat DP Rp 700 ribu dengan angsuran 20 ribu per hari.
Periode promo ini berlaku 1-30 Juni 2021 dan dapatkan kesempatan untuk memenangkan hadiah dan door prize menarik dengan transaksi melalui promo iklan ini.
Marketing Manager Astra Motor Bali, Henry Setiawan mengatakan memasuki bulan sekolah Honda memberikan kemudahan untuk konsumen yang ingin memiliki sepeda motor Honda. Seluruh dealer resmi Honda Bali akan memberikan penawaran istimewa ini dan dapat di manfaatkan oleh konsumen. "Tipe sepeda motor Honda yang masuk dalam program ini adalah merupakan favorite konsumen yang kami tawarkan dengan harapan impian konsumen untuk memiliki sepeda motor Honda segera terwujud. Proses kreditnya pun snagat mudah cukup lengkapi KK, KTP agar segera diproses kredit," ungkap Henry.
Motor skutik premium All New Honda PCX yang baru diluncurkan pada awal tahun ini, mengukuhkan posisinya sebagai sepeda motor yang menghadirkan kenyamanan dalam berkendara dengan meraih penghargaan "Bike of the Year" pada ajang Otomotif Award 2021.
Penghargaan untuk All New Honda PCX ini ditemani All New Honda BeAT yang berhasil meraih peringkat pertama kategori Low Skutik. Selain itu, All New Honda Scoopy berhasil meraih penghargaan tertinggi di kategori Medium Retro Skutik. "Terima kasih atas kepercayaan masyarakat dan terpilihnya All New Honda PCX sebagai Bike of The Year pada Otomotif Award 2021. Dengan pencapaian ini, kami berharap dapat semakin melengkapi kesenangan berkendara para pecinta skutik premium yang menyukai sensasi berkendara nyaman dengan teknologi tinggi," tutup Henry. (kmb/balipost)
Credit: Source link