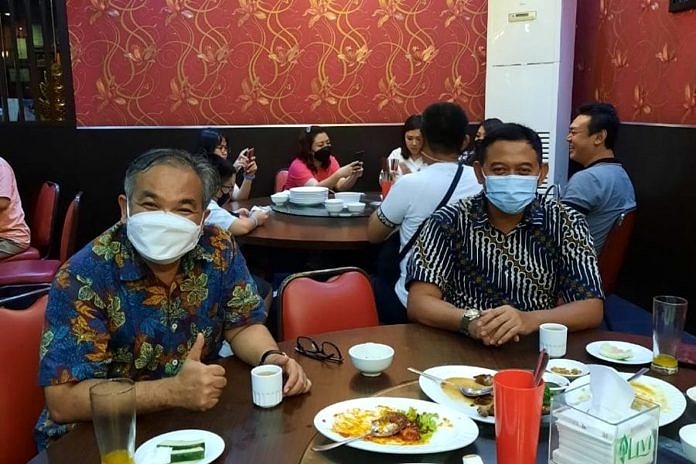 DENPASAR, BALIPOST.com – Regional CEO Bank Mandiri Region XI Bali dan Nusa Tenggara (Nusra) Hendra Wahyudi menyampaikan kekaguman atas buku-buku "super best seller" Trilogi The Power of Silaturahim. Sebab, hasil penjualannya digunakan untuk kegiatan sosial, terutama membiayai umrah ratusan orang.
Hendra bahkan merencanakan untuk membagi-bagikan buku-buku itu ke jajarannya. Jumlah kebutuhannya sedang dihitung.
Selain itu dia berencana mengundang penulis buku-buku tersebut Dr Aqua Dwipayana untuk Sharing Komunikasi dan Motivasi dengan jajarannya. "Pak Aqua akan saya undang untuk memotivasi teman-teman. Sebaiknya ketemu langsung daripada lewat zoom. Rasanya beda sekali pertemuan tatap muka dibandingkan online," kata Hendra.
Ia mengatakan hal itu saat menjamu makan malam Dr Aqua, Senin (21/6). Saat itu, Hendra didampingi Regional Transaction & Consumer Head Winardi Legowo, Regional Chief Financial Officer Divva, dan Transaction Banking Retail Head Erik Dolly.
Saat pertemuan tersebut, Dr Aqua memberikan buku Trilogi The Power of Silaturahim karyanya kepada Hendra. Ketiga buku itu berjudul "The Power of Silaturahim: Rahasia Sukses Menjalin Komunikasi", "Humanisme Silaturahim Menembus Batas: Kisah Inspiratif Persahabatan Aqua Dwipayana-Ventje Suardana (Satu Kesamaan Yang Mampu Mengatasi Sejuta Perbedaan)" serta "Berkarya dan Peduli Sosial Gaya Generasi Milenial: Kisah Inspiratif Dua Bersaudara Alira-Savero Dwipayana Bergiat untuk Sesama".
Dr Aqua menginfokan bahwa ketiga buku karyanya itu sudah dicetak total 200 ribu eksemplar. Dalam waktu dekat akan dicetak ulang sebanyak 30 ribu eksemplar.
Pertemuan Hendra dengan Dr Aqua Dwipayana menjadi salah satu kegiatan silaturahim Dr Aqua di Provinsi Bali sepanjang Senin itu. Selama lebih kurang 10 jam, Dr Aqua memanfaatkan benar waktunya untuk bisa bertemu dan bersilaturahim dengan relasinya di Bali yang berasal dari beragam latar belakang.
Pada Selasa (22/6), Dr Aqua kembali melanjutkan silaturahim. Banyak orang yang ditemuinya. Agendanya juga dari pagi sampai malam. (kmb/balipost)
Credit: Source link