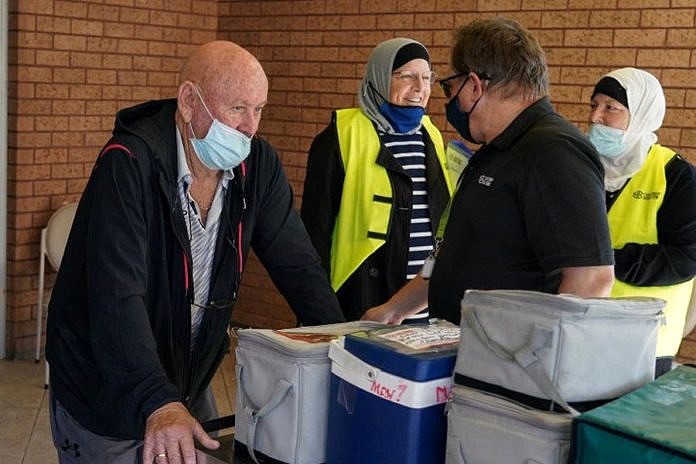 SYDNEY, BALIPOST.com – Untuk menegakkan perintah lockdown, Polisi di Sydney diberikan kewenangan yang lebih besar, dengan dukungan militer tambahan dalam rangka membendung berkembangnya wabah varian Delta yang lebih menular.
Dengan wabah yang berkembang dari hari ke hari meskipun tujuh minggu dikunci, polisi akan diberdayakan untuk menghentikan penduduk menggunakan celah dalam pembatasan untuk bepergian ke luar kota. Hal itu dilaporkan surat kabar The Australian, sebagaimana dikutip dari kantor berita Antara, Kamis (12/8).
Langkah itu dilakukan setelah beberapa wabah di kota-kota di seluruh New South Wales (NSW), negara bagian yang beribu kota Sydney, meningkatkan kekhawatiran bahwa COVID-19 sedang menyebar tak terkendali.
Sekitar 300 personel militer tak bersenjata sudah membantu polisi menegakkan perintah karantina rumah pada keluarga yang terkena dampak di pinggiran kota Sydney. Sejumlah pasukan tambahan akan dikirim untuk memperkuat operasi tersebut, lapor The Australian, tanpa memberikan angka.
Terlepas dari perintah tinggal di rumah, infeksi harian di NSW terus mencapai rekor tertinggi sebanyak 344 kasus dilaporkan pada Rabu (11/8), dan beberapa kota juga terpaksa menerapkan lockdown.
Negara Bagian Victoria pada Kamis melaporkan 21 kasus baru yang didapat secara lokal. Jumlah itu naik dari 20 sehari sebelumnya, ketika lima juta penduduk Melbourne, ibu kota negara bagian, bersiap untuk memasuki minggu kedua penguncian.
Pihak berwenang pada Rabu memperpanjang penguncian di Melbourne selama tujuh hari lagi hingga 19 Agustus. Australia sejauh ini mencatat 37.400 kasus COVID-19 dan 944 kematian. Kendati wabah berlangsung di Sydney dan Melbourne, beberapa negara bagian tetap hampir bebas COVID.
Namun, penyebaran cepat varian Delta di New South Wales dan peluncuran vaksin yang lambat telah membuat Australia rentan terhadap gelombang infeksi baru. Hanya sekitar 24 persen orang di atas usia 16 tahun yang sudah divaksinasi lengkap. (Kmb/Balipost)
Credit: Source link